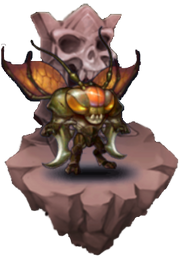 | Skill | Description | Strategy |
| --- | --- | --- |
| Burrow | Hides himself under the ground and recovers HP. | |
| Fatal Shell | Resists all Physical damage and most control skills. | Select heroes with High Magic Damage. |
| Bloodvenom | Spits blood and deals damage over time to all heroes. | |
Recommended Heroes
Edit
Heroes with High Magic Damage, Soulhunter (carefully), Necromancer
Possible Loot
Edit
Difficulty
Loot
Difficulty
Loot
Difficulty I
Difficulty II
Difficulty III
Difficulty IV
Difficulty V
Difficulty VI
Difficulty VII
Difficulty VIII
Difficulty IX
Difficulty X
Difficulty XI
Unlocks at 107
Analysis
Edit
After a few seconds he will Burrow and heal up. Then he will unburrow and use the blood venom and burrow again. Then he will unburrow and you have a few seconds to "Instagib" him. This is about 3-4 Seconds.
Ad blocker interference detected!
Wikia is a free-to-use site that makes money from advertising. We have a modified experience for viewers using ad blockers

Wikia is not accessible if you've made further modifications. Remove the custom ad blocker rule(s) and the page will load as expected.