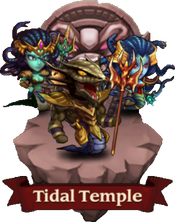 Tidal Temple is one of the Time Rifts. The enemies drop great amounts of Experience Potions. The rarity of the potions is related to the level of the challenge.
Challenge Open
Edit
Monday, Wednesday, Friday and Sunday.
Possible Loot
Edit
Difficulty
Loot
Difficulty
Loot
Difficulty
Loot
Difficulty I
Difficulty II
Difficulty III
Difficulty IV
Difficulty V
Difficulty VI
Difficulty VII
Difficulty VIII
Difficulty IX
Difficulty X
Difficulty XI
Unlocks at 107
Ad blocker interference detected!
Wikia is a free-to-use site that makes money from advertising. We have a modified experience for viewers using ad blockers

Wikia is not accessible if you've made further modifications. Remove the custom ad blocker rule(s) and the page will load as expected.