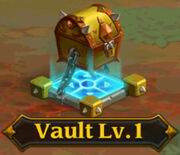 Vault Edit Edit
This is where the player can store their resources (lumber, ore and mercury). Leveling it up allows to store more items in it safely.
The Vault DOES NOT protect your resources from revenge attacks, only people running around plundering.
Build requirements:
Ad blocker interference detected!
Wikia is a free-to-use site that makes money from advertising. We have a modified experience for viewers using ad blockers

Wikia is not accessible if you've made further modifications. Remove the custom ad blocker rule(s) and the page will load as expected.